Como 26
Rim-mounted bathtub set
With its crystal-clear waters and sublime mountain panoramas, Lago di Como is the pearl of northern Italy. Right here, at the foot of Monte San Primo, lies the cradle of the COMO by VALLONE® tap collection – made with passion according to decades of Italian craftsmanship and exclusively from the purest stainless steel. Minimalist design with maximum style – classic in matte brushed stainless steel, modern in brushed gold, or classy in gunmetal black.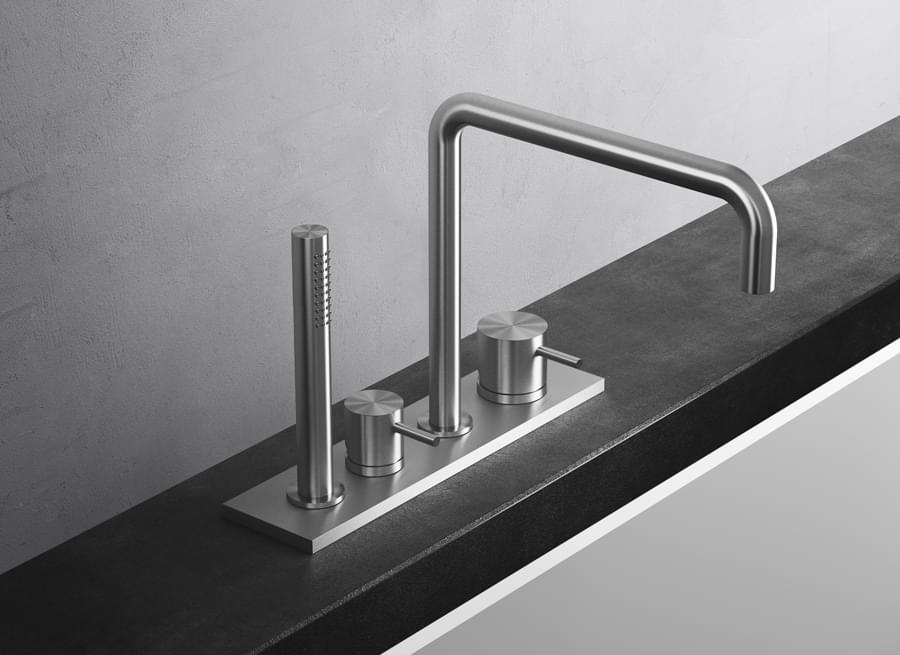 Item number
1200-50-26-MC
How does the COMO 26 mixer set work?
The rim-mounted bathtub set has two mixers. While the larger mixer controls the spout, the smaller mixer controls the handheld shower head. Both mixers can be used simultaneously.
What is recommended for installing the tap?
We strongly recommend using an installation rack for rim-mounted taps to install the COMO 26. This device protects the building from water damage.
Is COMO 26 compatible with all VALLONE® bathtubs?
Yes, the COMO 26 tap can easily be combined with all VALLONE® bathtubs.
How should the stainless steel taps be cleaned?
Stainless steel is extremely resilient and easy to clean. The stainless steel surfaces can be cleaned using a pH neutral detergent solution or a special stainless steel cleaner in combination with a soft cotton cloth. Further information on cleaning is provided in the VALLONE® Care Guide.
Do VALLONE® taps comply with the applicable regulations and technical standards for sanitary products?
All VALLONE® taps use high-quality components certified according to recognized industry standards by international testing laboratories. All relevant and water-bearing components of our taps are suitable for drinking water and comply with the applicable DIN Standards for Sanitary Products in Germany and throughout the EU. All VALLONE products meet the highest technical quality standards and are approved without exception for installation in the German-speaking countries, as well as internationally.

In addition, our COMO and NOYA series of taps have DIN-DVGW certification, providing for maximum technical reliability and problem-free installation. For further information, please do not hesitate to contact our technical support team.
STAINLESS STEEL MATERIAL SAMPLE
Request a free sample now and experience the material up close.
CONTACT & CONSULTATION
We are also happy to answer all questions about our products by phone.