With its crystal-clear waters and sublime mountain panoramas, Lago di Como is the pearl of northern Italy. Right here, at the foot of Monte San Primo, lies the cradle of the COMO by VALLONE® tap collection: made with passion, decades of Italian craftsmanship and pure stainless steel. Minimalist design with maximum style.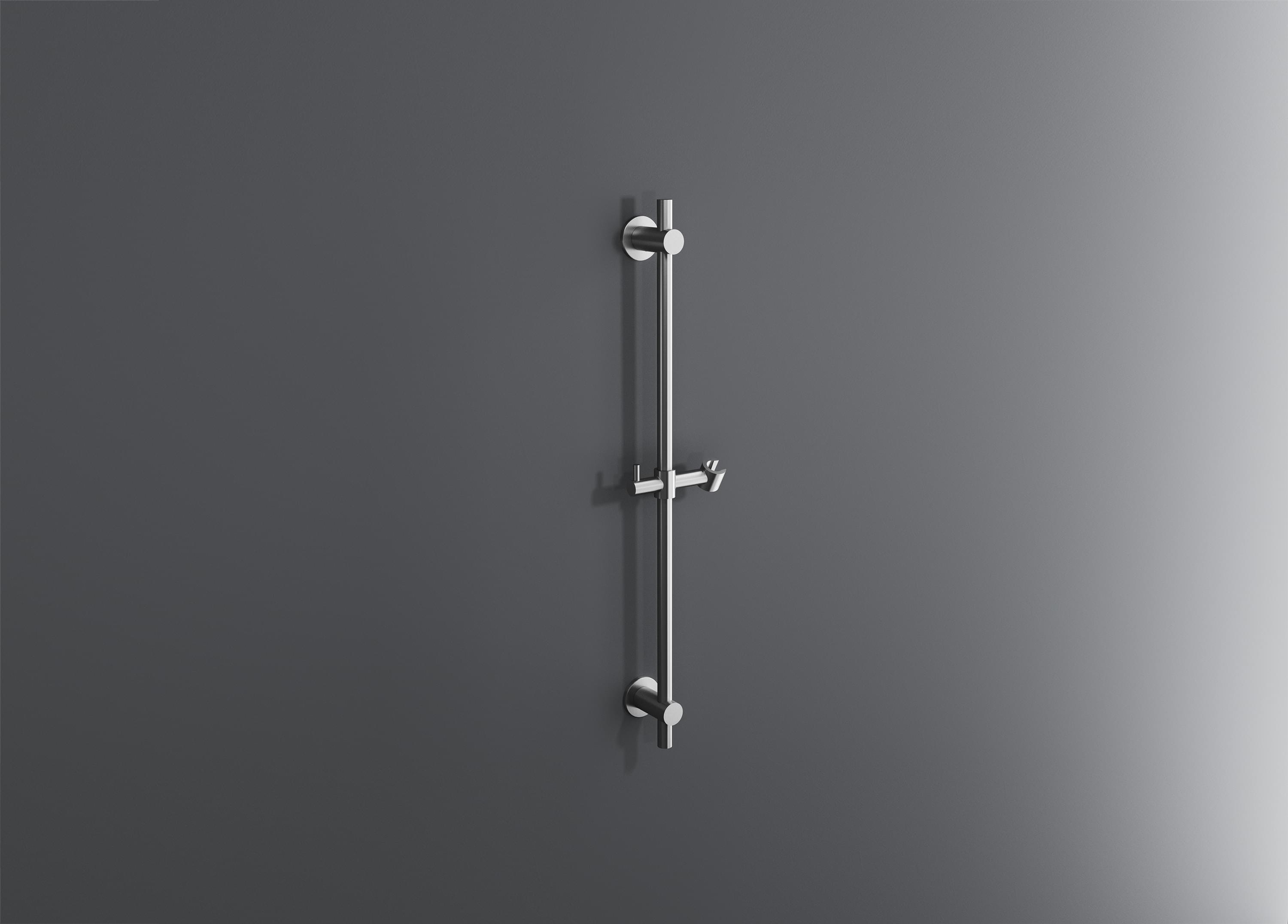 Item number
600-50-34-60-M
How should the stainless steel taps be cleaned?
Stainless steel is extremely resilient and easy to clean. The stainless steel surfaces can be cleaned using a pH neutral detergent solution or a special stainless steel cleaner in combination with a soft cotton cloth. Further information on cleaning is provided in the VALLONE® Care Guide.
Is the distance between the wall brackets fixed or can existing holes be used?
The distance between the drill holes for the wall brackets is fixed at 60 or 90 cm.
Is the holder for the handheld shower head freely adjustable?
The holder for the handheld shower head can be individually adjusted for both height and angle.
Which handheld shower head is compatible with the COMO 34 shower rod?
The shower rod can be perfectly combined with the COMO 16 handheld shower head. The mounting fixture for the handheld shower head and the connection of the shower hose are standardized, so COMO 34 is compatible with any handheld shower head.
Do VALLONE® taps comply with the applicable regulations and technical standards for sanitary products?
All VALLONE® taps use high-quality components certified according to recognized industry standards by international testing laboratories. All relevant and water-bearing components of our taps are suitable for drinking water and comply with the applicable DIN Standards for Sanitary Products in Germany and throughout the EU. All VALLONE products meet the highest technical quality standards and are approved without exception for installation in the German-speaking countries, as well as internationally.

In addition, our COMO and NOYA series of taps have DIN-DVGW certification, providing for maximum technical reliability and problem-free installation. For further information, please do not hesitate to contact our technical support team.
Is the hardware needed to install the shower rod included?
Yes, a set of screws and dowels is included. An additional Allen wrench is required to secure the shower rod.
Can individual parts of the tap be replaced if necessary?
VALLONE® has a range of more than 3,500 spare parts, which allows us to provide direct, personalized and fast assistance when needed. For further information, please do not hesitate to contact us.
STAINLESS STEEL MATERIAL SAMPLE
Request a free sample now and experience the material up close.
CONTACT & CONSULTATION
We are also happy to answer all questions about our products by phone.